Our high power lasers consist of the laser head and the AC power supply with complete FDA compliant features. They are easy to operate (Elite Power Supply) and can have more functions (Laboratory Power Supply), such as the adjustable output power knob, the operating current LED display, and optional TTL/Analog modulations up to 10KHz. The features of our high power lasers are compact, long lifetime, low cost.
In addition, more higher output power laser heads and power supplies are also available for higher output power lasers.
| | | |
| --- | --- | --- |
| | | |
| Laser Head | Elite Power Supply | Laboratory Power Supply |
| | | |
| High Power Laser Head | High Power Elite Power Supply | High Power Laboratory Power Supply |
High Power Diode Lasers:
High Power Lasers with the Circular Beam:
Note: Fiber Coupled High Power Lasers are available upon requested.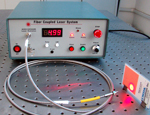 FCL- Series Fiber Coupled Laser System
High power 375nm violet laser, 405nm violet blue laser, 442nm, 447nm, 450nm, 488nm blue lasers, 635nm, 640nm, 655nm, 685nm, 690nm, 705nm, 730nm red lasers, 785nm, 808nm, 830nm, 845nm, 885nm, 915nm, 940nm, 965nm, 975nm, 980nm, 1450nm, 1470nm, 1530nm, 1550nm, 1700nm, 1780nm, 1900nm, 1940nm & 2200nm Infrared lasers up to >50W with the complete FDA compliant features are available now.
Warning: Laser radiation is harmful.
DO NOT STARE INTO BEAM for Class II laser.
AVOID DIRECT EYE EXPOSURE for Class IIIa laser.
AVOID EXPOSURE TO BEAM for Class IIIb laser.
AVOID EYE OR SKIN EXPOSURE TO DIRECT OR SCATTERED RADIATION for Class IV laser.
Please refer to FDA PERFORMANCE STANDARDS FOR LIGHT-EMITTING PRODUCTS for the detailed information.
The above specifications are subject to change without notice.